…with industry proven powerline technology;
easy to use, powerful and cost effective control anytime from anywhere
Control machinery,
factory processes,
mains powered switches,
animal feeders, fluid flow,
fans, water, actuators, etc.
The system uses a solid state controller (essentially a Windows 10 PC ) that operates
as a stand alone controller and/or
WIFI and/or
connected to the internet .
It provides simple yet powerful multiuser remote control
with advanced scheduling.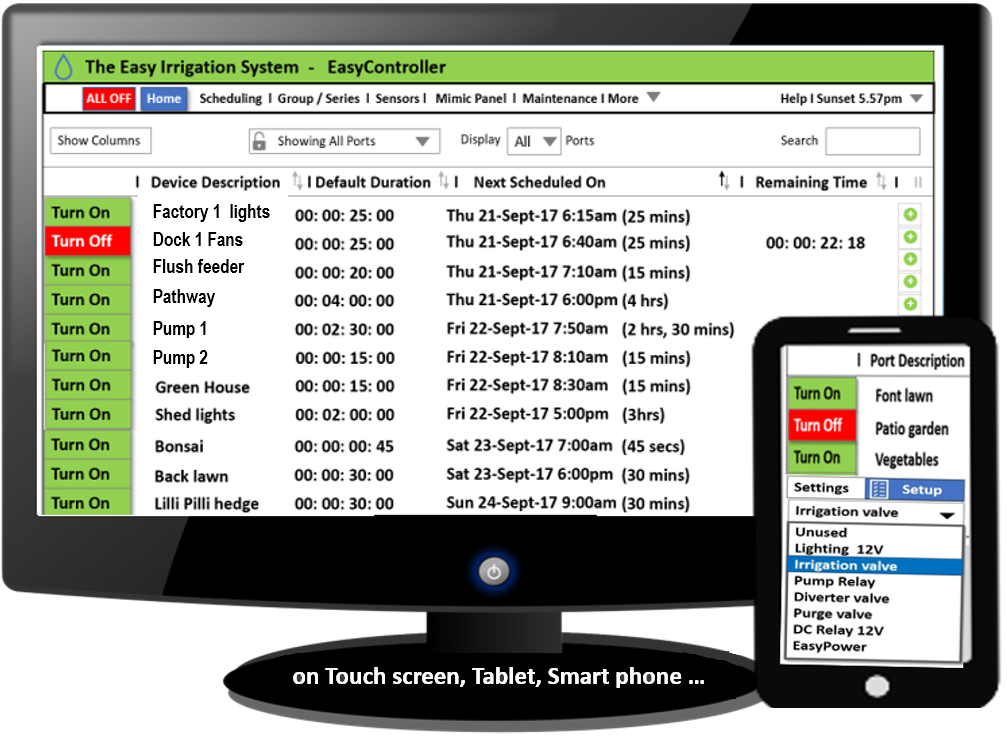 unmatched benefits & features that you select and control
Using a single 2-core cable that can
be extended and branched for hundreds of metres,
carry control signals to dozens of devices.
Attached anywhere along the cable are environmentally robust "EasySwitches" (essentially advanced decoders).
Each EasySwitch has 2 output ports which can output either 12 volts DC or 24VAC (selectable on screen).
All system ports are independently controllable. Control signals are "hand shaked" to the attached EasySwitches.
The underlying control technology is used in over 100 million devices worldwide.
Each EasySwitch controls the duration of its ports so the system is not completely master/slave so that the controller is not overloaded in complex operations.
Simple 10 minute setup of controller – easy screen based.
Simple or complex scheduling.
On durations using days, hours, minutes and seconds.
Use any PC screen or a standard touch screen.
Standalone (even voice), LAN and/or Wi-Fi and/or multiuser remote web access.
Control with most web enabled smartphones, PCs, tablets.
No special control app required for full remote control.
One 24VAC powered cable for all controlled ports.
Impressive features and simplicity for user friendly editing of all the control options.
Simple expansion (one to a hundred plus devices) – one cable, same controller.
Extremely cost effective.
Easy Automation Pty Ltd is an all Australian company.
With the assistance of the Australian Federal Government Research & Development incentive program, Easy Automation has designed and manufactured a powerline control system suitable for a range of control applications.
In particular, the company Easy Irrigation Pty Ltd (www.easyirrigation.com.au) has taken this control system and developed it into a leading irrigation controller suitable for domestic and commercial use.
If required, custom controller programming can be provided.